Company looks at starting Saipan-Australia flights
Source: Pacific Daily News
Date: October 17, 2022

A company that recently began air service between the Mariana Islands hopes to launch a new airline with service between Saipan and Australia, according to MP Enterprises President Keither Stewart.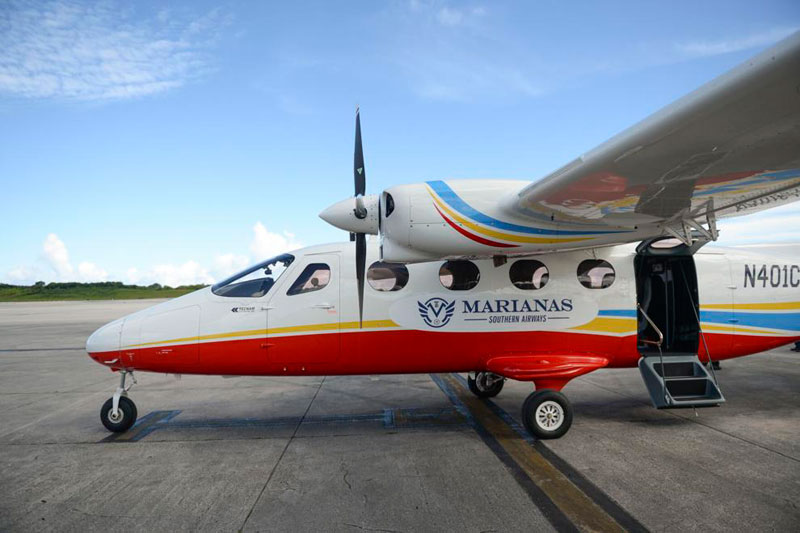 MP Enterprises, the parent company of Marianas Southern Airways, which began operating between Guam and Saipan on Aug. 18, 2022, hopes to launch a new international service out of Saipan, according to a news release from the company.
In August, MP Enterprises established domestic service between Guam and the Northern Marianas on Marianas Southern Airways.

Now, the company is looking at starting Northern Marianas Airways, which Stewart said could begin services as early as March 2023, provided appropriate route support could be provided.

"As a company with several local business interests we are acutely aware of how important direct international air links into Saipan are if we are to grow the local economy and provide a sustainable future for our children and grandchildren," said Stewart.

Stewart also said that it was important that the CNMI looked to open up new tourism markets and that in order to do so it was essential that the airline was Saipan-based.

"Australia is a market that we have closely researched, and we believe it has great potential. Australians spend an average of 6.2 nights per visit making them one of the longer-staying tourists," said Stewart. "We know that post-COVID, Australians are looking for alternative tourist destinations and with a direct flight of just 6-¾ hours, Saipan with its pristine beaches, excellent water-based activities, first-class golf courses, cultural history and mild climate is a very attractive option," he added.

According to Stewart, the airline would provide capacity for nearly 50,000 Australian passengers alone each year.

"With Marianans Southern Airways we have provided affordable fares to Tinian, Rota and Guam," said Stewart, "and we plan to do the same with fares to Australia and other parts of the world to help jumpstart tourism in the CNMI".

Sydney and Brisbane in Australia are the first targets for the proposed carrier, it also plans to provide affordable travel to Saipan from several Japanese cities as well as Seoul and Manila. Stewart says that they could have these additional routes up and running before the end of 2023.

"We have been in discussions with Anchorage-based Northern Pacific Airways to provide a turnkey aircraft and supply solution," said Stewart, adding that "as the new airline would be Saipan-based and controlled, decisions as to where it operates to will be made with the interests of the CNMI at the forefront."

With Northern Pacific Airways' services scheduled to bridge the US with Japan and South Korea, flights through Saipan will give travelers from Australia, the Philippines and the CNMI an innovative way of connecting destinations East and West through Anchorage, Alaska, according to Stewart.

Northern Marianas Airways proposes to operate Boeing 757-200 aircraft in 16 business class seats, 36 premium economy seats and 129 economy seats layout. The B757 can operate from almost any airport in the world, including noise-restricted airports, short runways and airports in hot and high locations. It is quiet and fuel-efficient, is environmentally friendly and meets worldwide standards for engine emissions.
 
---
Office of the President, Republic of Palau
Source: Office of the President, Republic of Palau
Date: October 27, 2022

Let's get ready Palau!
"We received confirmation last night that Air Niugini will be flying direct between Palau and Australia in December," said President Surangel S. Whipps, Jr. "We're excited to welcome our first visitors from Australia and from Papua New Guinea. We have been pushing hard to rebuild our economy and really establishing Palau as a gateway between Asia and the Pacific."
The President noted that this is a "great first step" but there is more work to be done to connect Palau and other countries in the Pacific region.
The administration has been working with the Australian government for the last two years. We appreciate our friends and partners in Australia for working closely with MHRCTD, PVA, PNAA and Bureau of Aviation to establish this route for passengers and cargo. We believe that this will help support businesses and boost tourism for all involved in this partnership.
Minister Ngiraibelas Tmetuchl of Ministry of Human Resource, Culture, Tourism and Development noted: "President Surangel Whipps' efforts have paid off and we're excited to see direct flights between Palau and Australia via Port Moresby. Like Palau, our neighbors in Australia and Papua New Guinea appreciate the natural wonders of the world and we're excited to share beautiful Palau with them."