The Pacific Asia Travel Association (PATA) is a membership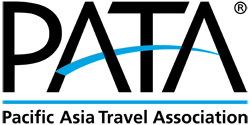 association acting as a catalyst for the responsible development of the Asia Pacific travel and tourism industry.

In partnership with PATA's private and public sector members, the organization enhances the sustainable growth, value and quality of travel and tourism to, from, and within the region.
Founded in Honolulu in 1952, PATA began with 91 delegates at the First Pacific Area Travel Conference. Today, the organization covers more than one-third of the globe and is represented through 39 regional and satellite chapters.
Travel and tourism are viewed by many notable economists as one of the great industries of growth in the 21st century. PATA's advantage is that it continues to influence the industry's direction through its unique membership structure of public-sector tourism organizations; air, land and sea carriers; and organizations engaged in the production, distribution, financing, consulting, educating and other technical aspects of the travel industry.
The theme "Building Tourism: Past, Present and Progressive" has been adopted for the 60th PATA Annual Conference in 2011. Marking both the return of the PATA Annual Conference and a celebration of six decades of building tourism, it is a must-attend event for anyone concerned with the future development of travel and tourism in the Asia Pacific region - the world's fastest growing destination. For more information, visit www.pata.org.

PATA Headquarters, Unit B1, 28th Floor, Siam Tower
989 Rama I Road, Pathumwan, Bangkok 10330, Thailand
Tel: +66 (0)2 658-2000, Fax: +66 (0)2 658-2010