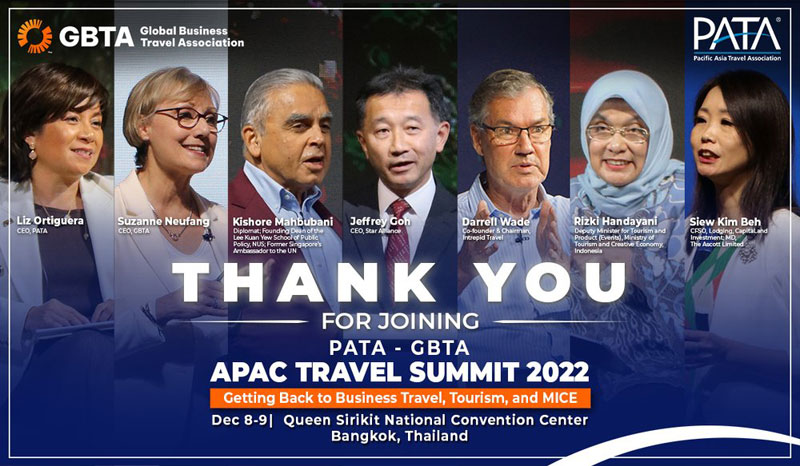 Wrapping up the year on a high-note, our first ever APAC Travel Summit in collaboration with Global Business Travel Association successfully concluded on Dec 9, 2022 with support from Diamond Sponsor, Thailand Convention and Exhibition Bureau (TCEB); Main Stage Sponsor, FCM Travel; Silver Sponsors, American Airlines and Gangneung City; Registration Area Sponsor, Cvent, and Featured Sponsors, the Tourism Authority of Thailand (TAT), Amadeus, BCD, CWT, and Marriott International.

The two-day event featured six breakout sessions, four main stage sessions, and four tradeshow sessions; bringing 222 delegates from 85 organisations and 15 destinations to the new, state-of-the-art Queen Sirikit National Convention Center (QSNCC) in Bangkok, Thailand to convene on four topics: Recovery & Opportunities, Recovery with Sustainability, Challenges and Opportunities in Duty of Care, and The Future of Travel in Asia Pacific. The event featured keynote speakers Prof. Kishore Mahbubani (diplomat, Asia geopolitical analyst, author and former dean), Darrell Wade (Founder of Intrepid and Chairman of Travalyst), and Jeffrey Goh (CEO of Star Alliance).

During the closing of the event, Ms Neufang and Ms Ortiguera provided a wrap up of the two-day event and announced the plans for the next PATA & GBTA APAC Travel Summit in Singapore in September 2023. If you are interested in attending the event and would like to receive updates, please add your name to this form: PATA-GBTA APAC Travel Summit 2023 Singapore Expression of Interest.

Take a sneak peek at the key takeaways from PATA-GBTA APAC Travel Summit below. PATA Members and event delegates are entitled to access all video recordings and decks as permitted by the guest speakers. To receive access to the content please contact Monica P. at [email protected].
 
Webinar: How Would the Opening of China Impact on Demand for Tourism in the Asia Pacific Region?
This webinar will present the latest trends and prospects of tourism demand based on the PATA Visitor Forecasts 2023-2025. Particular focus will be placed on the impact of the lifting of travel restrictions by China on visitor arrivals in major destinations within the region. Implications of these forecasts will also be presented and discussed during the webinar.

Thu, Jan 26, 4 PM Singapore (GMT+8) | 8 AM London | 1:30 PM New Delhi | 7 PM Sydney. Register here
The webinar is available at discounted pricing for Chapter Members.
Upcoming activities in Q1/2023