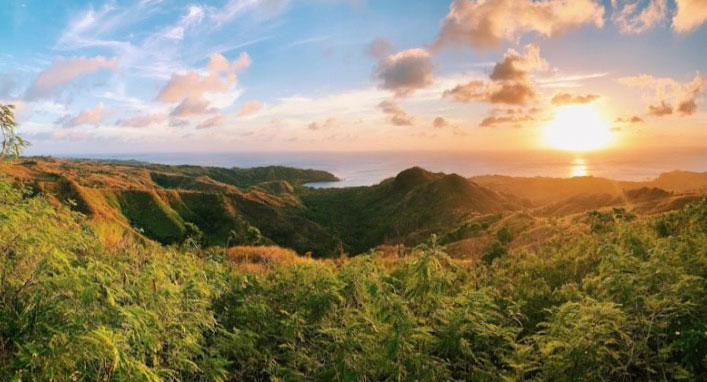 Destination Update
For more information, visit:
https://www.micronesiatour.com/destinations/guam
 

Member Highlight

A Window Into Nature

Fish Eye Marine Park Re-Opens on Guam
Story & Photos for Fish Eye by TIM ROCK
After two years of working hard just to stay in business, Fish Eye Mark Park in Guam is now finally re-opened. It is again providing nature lovers, both local and visiting, a unique window into nature. The main feature of Fish Eye's many offerings is the chance to go below the sea at the only underwater observatory in the western Pacific. Visitors can walk down a spiral staircase that takes them 30 feet below Tepungan Bay. Here, they see corals and fish and divers and snorkelers all from the many large windows that look out to the undersea. The observatory sits in an area called "The Bomb Holes" but they are likely naturally collapsed caves now filled with white sand and marine life. This entire bay on the western shore of Piti village is one Guam's five marine preserves and certainly one of the most beautiful. It has over 60 coral species, 200 fish and numerous invertebrates all making their homes in one of the most diverse eco-systems on the island.
Since many ocean-related businesses closed on Guam due to the pandemic, people ask us if the fish populations and reefs are healthier now after getting a break from so much human use. It is hard to tell really. But what we can see are a lot of fish schools roaming the reefs. Herbivores like the convict tangs, rabbitfish and dusky parrotfish move in large groups looking for algae patches. Schools of circular spadefish gather facing the currents in the channels. We see groups of big healthy jacks roaming their territories on the bay reefs. The observatory area has three resident black reefs sharks, which is a sign of good fish life and diversity.
Also, sea anemones that were very stressed from ocean warming in 2018 have gone from snow white back to their natural colors. Coral colonies have rebounded in many parts of the bay too. This is probably because during the last couple years water temperatures have been normal and even a bit cool for the most part. Guam did have a few weeks of warmer water here and there but conditions for recovering and staying healthy have seen Porites sp. coral colonies expand and soft corals grow high, waving in the currents and moving with the waves.
Free diving became quite popular in the bay during the pandemic. One of our staff reports seeing some sleeping nurse sharks in the main channel and mating action of groups of pink whiprays. Pregnant rays have also been seen. Sea turtles, usually green sea turtles and hawksbills, are frequently encountered. And the spring has also brought manta ray sightings outside the reef. Young eagle rays show up on occasions all along the western coast and make passes over the white sands of the Bomb Holes.
Fish Eye is also gearing up for its daily dolphin tours that normally take place in Hagat Village or off Asan Cut. Guam is blessed with pods of spinner dolphins that like to rest by day in the island's shallow bays. We have been respectfully observing the antics of the ocean aquabats for many years now.
Our next move will be to get the pan-Pacific cultural dinner show and lunch buffet ready as our base goes from local to more international guests again. Our dancers are from Guam, New Caledonia, Hawaii and Tahiti and present an exciting array of songs, dances and fun audience participation. The Fish Eye Visitor Center is located along the rustic limestone and jungle-covered cliffline just across the beach from the Underwater Observatory pier. The visitor center uniquely encompasses an open-air style theater restaurant with a man-made lagoon and a flowing waterfall.
We are fortunate to be located in this vast bay and take seriously our goals to protect and educate our guests about the importance of protecting our seas and reefs. The Piti Bay's fringing reef usually keeps the water inside very calm. The outer ocean is the Philippine Sea. But inside the bay the habitat is unique to any other place on Guam and one of the most varied in all of Micronesia. There are sea grass beds in shallow water that provide a home to juvenile tropical fish. Colonies of soft corals and sea anemones can be observed as shallow as three-to-four feet. Several underwater canyons, white sand-filled depressions and healthy colonies of hard corals can be seen starting in six feet of water. The deepest part of the bay is about 30 feet deep.
We opened in 1996 and employ over 100 people when offering all of our many tours and attractions. The pandemic marks the first time we have been closed for any extended period. We hope, for everyone's sake, that this difficult period is over and that people can come enjoy Guam and stop to see our undersea window into nature and Mother Ocean.