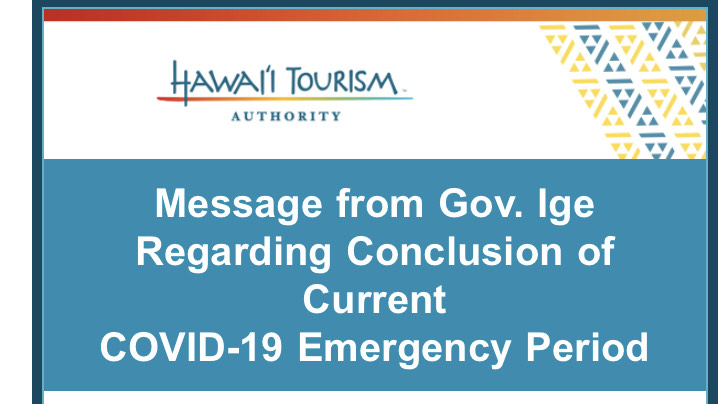 Message from Gov. Ige Regarding Conclusion of Current COVID-19 Emergency Period
March 23, 2022
Aloha Mai Kākou,
This month marked two years since we first detected COVID-19 in the islands and Hawaiʻi embarked on a journey to protect the health of our families, friends, and communities. Now that we know more about this virus and have the tools in our arsenal to lower case counts and hospitalizations, I am allowing the current emergency proclamation to expire on March 25.
After March 25, two of the biggest changes we'll see include the ending of the Safe Travels Hawaiʻi program and the ending of the state's indoor mask requirement. However, it's important to note that the CDC and Dept. of Health continue to recommend mask use while indoors for certain populations.
If your business serves customers who would be protected by continued mask use, or you would feel more comfortable enforcing your own mask requirements, please note that businesses have the right to create their own rules to ensure safety for both their customers and their workers. An example of how you can notify the public of mask requirements follows:
"This business reserves the right to refuse service to anyone, including those not wearing a mask over their mouth and nose. Although emergency rules no longer mandate it, this establishment continues to require mask-wearing to protect the health of our patrons and employees."
While the state's emergency proclamation is ending, the pandemic is not over. I encourage businesses to continue some of the creative services they've offered during the pandemic, such as curb-side pickup, for those who are not yet comfortable resuming "normal" activities.
We're continuing to monitor COVID-19 variants, cases counts, and hospitalizations worldwide. While there won't be an emergency proclamation in place, some measures you can still take to protect yourself, your employees, and your customers:
Wear your mask if you feel the need to wear one, especially if you are unvaccinated, elderly, have underlying health conditions, or care for people at high risk of contracting severe COVID. Masks are also recommended if you are in a crowded setting.
Stay up to date on the COVID vaccine, including a booster if you are eligible.
And as always, stay home if you're sick, and get tested if you've had contact with a COVID-positive individual or have COVID-like symptoms.
This has been a long journey for all of us. Hawaiʻi has had the fewest cases per capita in the country and the second lowest death rate in the country thanks to all of us pulling together as a community. Each one of you has contributed to protecting public health, re-vitalizing our economy, and strengthening our communities.
Once again, I thank you for all you've done, and continue to do, to keep our communities healthy, safe, and strong.
With warmest regards,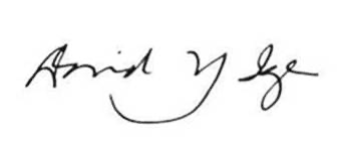 David Y. Ige Governor, State of Hawaiʻi
Main Office: (808) 586-0034
https://governor.hawaii.gov