Author:
By Nick O'Malley
Date:
November 10, 2021
Link:
https://www.smh.com.au/environment/climate-change/how-ambition-for-a-small-country-s-survival-helped-reshape-the-cop-agenda-20211110-p597lb.html

It could have been exhaustion etched into the face of Marshall Island climate envoy Tina Stege, as she spoke with media halfway through day nine of the United Nations climate talks.
It could just as easily have been fear.

The Marshall Islands is an unlikely powerhouse at the COP for its role in founding a grouping called the High Ambition Coalition, a voting bloc of nations that appeared suddenly and dramatically at the Paris climate talks.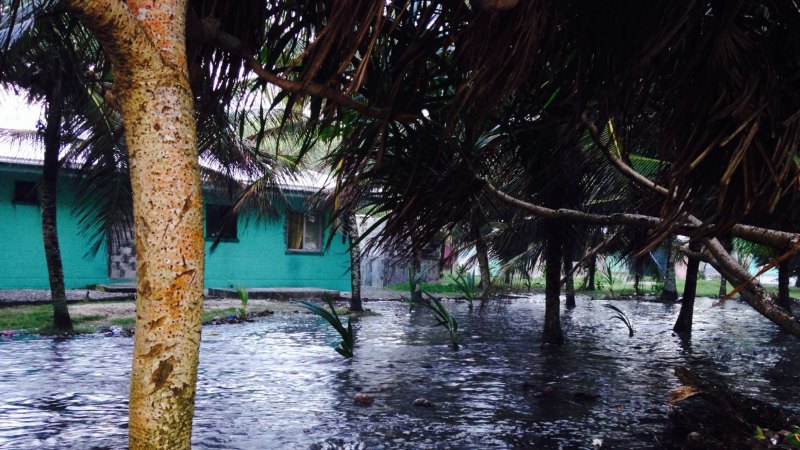 The Marshall Islands elder statesman Tony DeBrum, who has since died, managed to craft a coalition that spanned the globe, including small climate-vulnerable nations, then much of Europe and eventually the United States.
The HAC, as its known, is responsible for altering the language of the Paris Agreement to make its goal to hold global warming to "well below 2, preferably to 1.5 degrees Celsius, compared to pre-industrial levels".
DeBrum began to build the coalition when it became clear to him that above 1.5 degrees, his nation would cease to exist. Today, says Wesley Morgan, a Pacific specialist with the Climate Council, the coalition carries not only moral authority but political heft as a bloc that unites developed and developing nations which have traditionally not acted in concert.
It is working to make the 1.5 degree goal it forced into the Paris Accord the Glasgow document's central focus, with the support of the current COP presidency which has made "keep 1.5 alive" a slogan of the talks, echoing DeBrum's own "1.5 to stay alive".
Stege took to a press conference stage on Tuesday to address a new assessment by Climate Action Tracker that given all the commitments so far made at COP26, the world remains on track for between 2.4 degrees, if governments deliver on their promises, and 2.7 if they continue with their current policies.
"So what does this all mean?" said Stege. "It means we have to focus on increasing the 2030 mitigation ambition. 2030 is the cliff edge, certainly for my country, a small island developing state, but really for the world."
Asked what failure could mean, she paused and then responded slowly, carefully.
"As the Marshall Islands [envoy], I can't accept that failure. Failure is accepting that perhaps there isn't a future for my country. It's not acceptable. Therefore, we will continue to work to make sure that this COP puts in place what needs to be there to keep the door open for 1.5."
For Stege and other members of the coalition, this means not only ensuring that 1.5 degrees remains the focus, but lobbying for a final Glasgow statement to include language that would direct nations to adopt 2030 targets that put them on a realistic trajectory to net zero by 2050.
It would also mean lobbying to set goals in line with 1.5, and to call on those, such as Australia, that have not improved on their 2030 targets to return to the issue next year.
At COP yesterday, a contingent of Democratic Party bigwigs including House speaker Nancy Pelosi and left-wing congresswoman Alexandria Ocasio-Cortez arrived to reinforce the message already delivered by Joe Biden, Barack Obama and John Kerry that the United States was back leading the fight against climate.
This should have been good news for the coalition, or at least better news. The US has again declared its support, but it has not been explicit that it supports all of the coalition's positions.
And the only reason the Biden administration has had to send such a large contingent of its rockstar proxies is because it is aware that its authority on climate is diminished.
It is battered not just by Donald Trump's abandonment of the Paris process, but by the difficulty Biden confronts in passing his own climate bills, not to mention the possibility that the party Trump still dominates could soon win mid-term elections and even retake the White House.
In which case the failure Stege so reasonably fears will become far more likely.