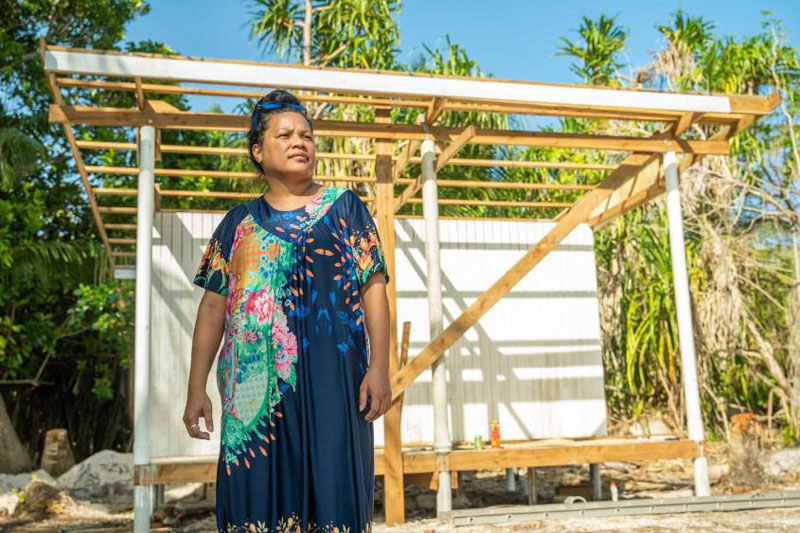 Opening Photo: Ms. Estella Matthew poses in front of her new beach house business, which she built as a recipient of the AoKapijuknen "My Homeland" Project.
 
Destination Update
State Tourism Grant
On October 2021, OCIT applied for the US State Tourism Grant and was awarded this year on January. OCIT had already met with identified partners over the past few months to analyze and secure activities scheduled for the next five years under the State Tourism Grant, which is worth 1.6 million dollars and was recently approved. We are ecstatic that the projects under the proposal will aid the RMI in "Building Back Better" following the pandemic. We look forward to implementing all travel, tourism, and outdoor leisure activities that will help our Majuro and neighboring islands communities significantly. Under this award, there will be funding to continue the AoKapijuknen "My Homeland" project which successfully finished out the pilot phase. The two grantees who received seed funding for their tourism-related businesses have started developing their business and should be able to operate and open to guests by this summer.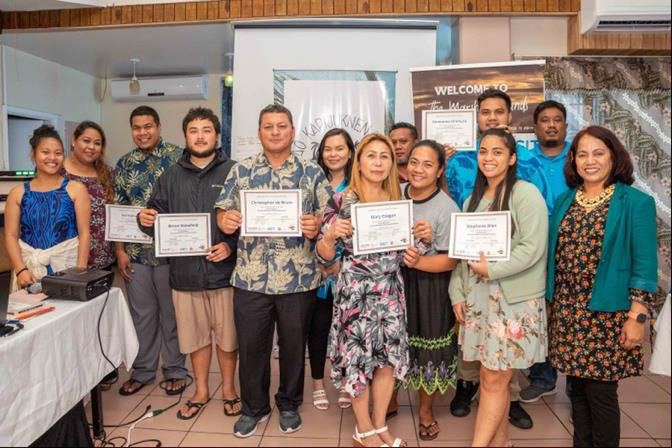 To close-out the pilot project, the AoKapijuknen team along with the assistance of SPTO conducted a training called "AoKapijuknen Tourism Business Training" which focused on the following topics:
1) Tourism, Travel, and Hospitality Industry's Importance in the RMI
2) Customer Service & Marketing
3) Opportunities for sustainable development, ecotourism, and tourism businesses in the RMI
4) Financial literacy & Business Planning
5) Financing Resources: Grants and Loan Sources
Nuclear Victim's Day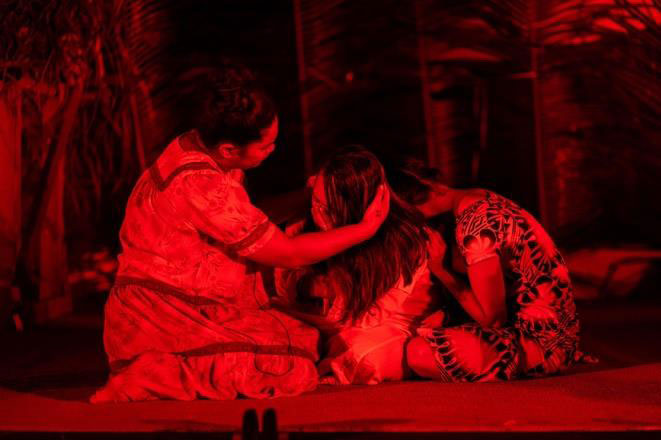 On March 1, 2022, the RMI commemorated Nuclear Victims Remembrance Day to honor the victims and survivors of nuclear testing conducted in the Marshall Islands. President David Kabua expressed his sorrow for the Marshall Islands' people during the ceremony, noting that the nuclear tests conducted decades ago continue to have repercussions today, and the lingering effects of nuclear testing serve as a reminder that the nuclear system causes unacceptable damage with long-term consequences. Additionally, the event featured special entertainment which included poem recitals and a stage play titled "The Declassified File" performed by several students. The play was centered on the US arriving to Bikini Atoll and requesting that Bikini people relocate, claiming that the move was necessary for the "good of mankind and the end of all wars."
WaanAelõñ in Majel (WAM)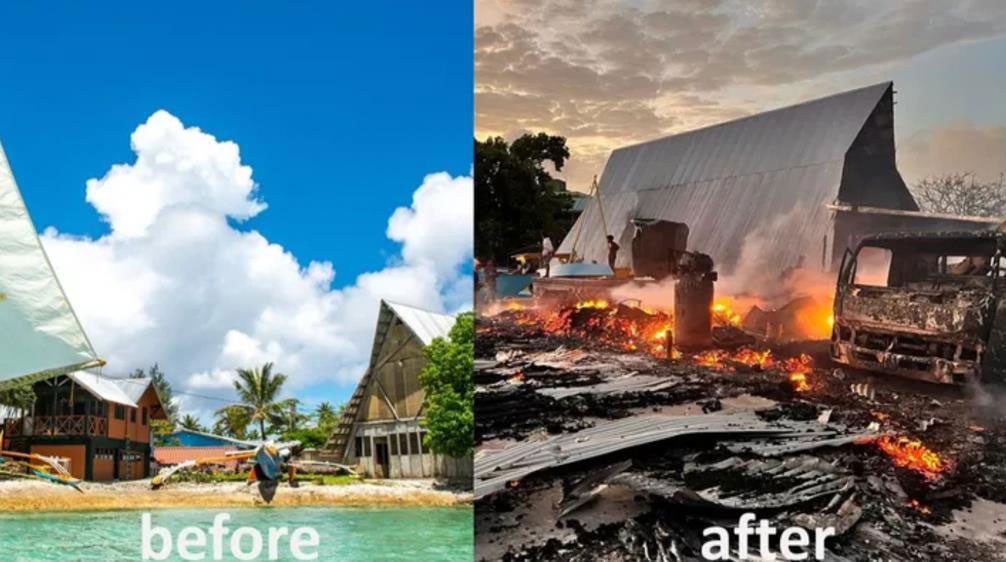 WaanAelon in Majel (WAM) is a Marshall Islands-based non-governmental organization committed to traditional canoe building and sailing. It serves as atraining center for sustainable boat building and traditional navigation skills. WAM is at the vanguard of the fight against climate change and is a brilliant example of how a tiny non-governmental organization can improve an entire country's living via craftsmanship, tradition, research, education, and training.
Tragically, the canoe house caught fire in early February of this year. The RMI community rallied to aid in the reconstruction of WAM's Workshop. OCIT will support this initiative through the state tourism grant, as we recognize the crucial function of a Marshallese NGO dedicated to the preservation of traditional canoe building and sailing practices. Additionally, it serves as a teaching facility, which has benefited a large number of our citizens.
To donate, please visit:
https://www.gofundme.com/f/helpwam?utm_source=customer&utm_medium=copy_link_all&utm_campaign=m_pd+share-sheet
Dubai World Expo 2022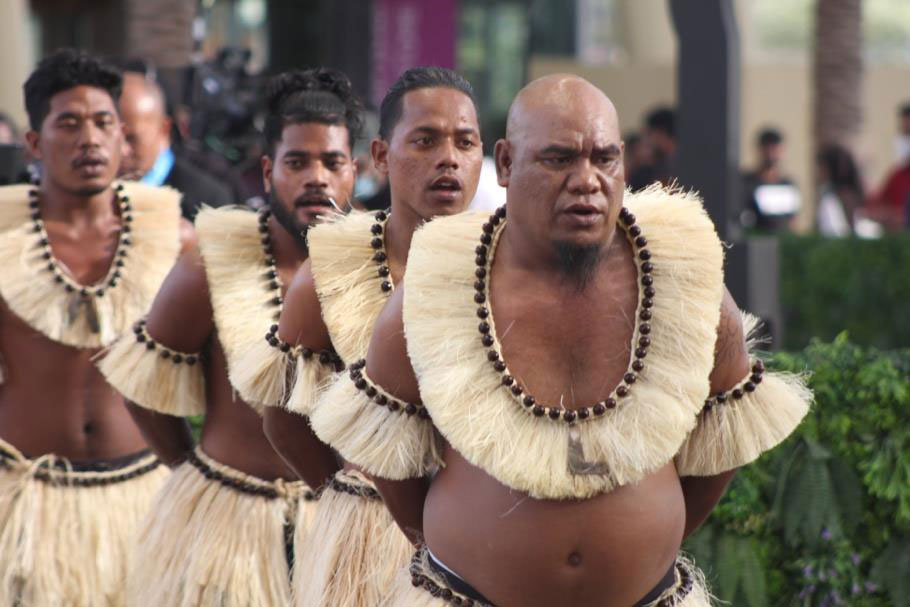 Performers from Namdrik Atoll at Dubai Expo 2020 (Picture credit: Facebook account: Solomon Islands at Expo 2022 DUBAI)
The Marshall Islands participated in the World Expo in Dubai for the past few months. During RMI's National Day (March 27, 2022) at the Dubai 2020 Expo, music and dance performance of a small yet skilled dance group from Namdrik Atoll. Despite being closed for three hours for the national day celebrations, the RMI Pavilion had a record 30,000+ visitors on its national day. The United Arab Emirates (UAE) strongly supports the Marshall Islands' fight for not only climate justice, but also nuclear justice, as it seeks a brighter future for its residents and all humanity. Observers noted that the Marshall Islands garnered the largest crowd for a national day celebration, demonstrating the world's curiosity with and admiration for a little nation with high ambitions for a more prosperous future. Mr. Francis C. Domnick, CEO of OCIT, was a part of the Dubai delegation from the RMI.
For more information, visit:
https://www.micronesiatour.com/destinations/marshall-islands
 

Member Highlight
Marshall Islands Service Corporation (MISCo)/Bank of Marshall Islands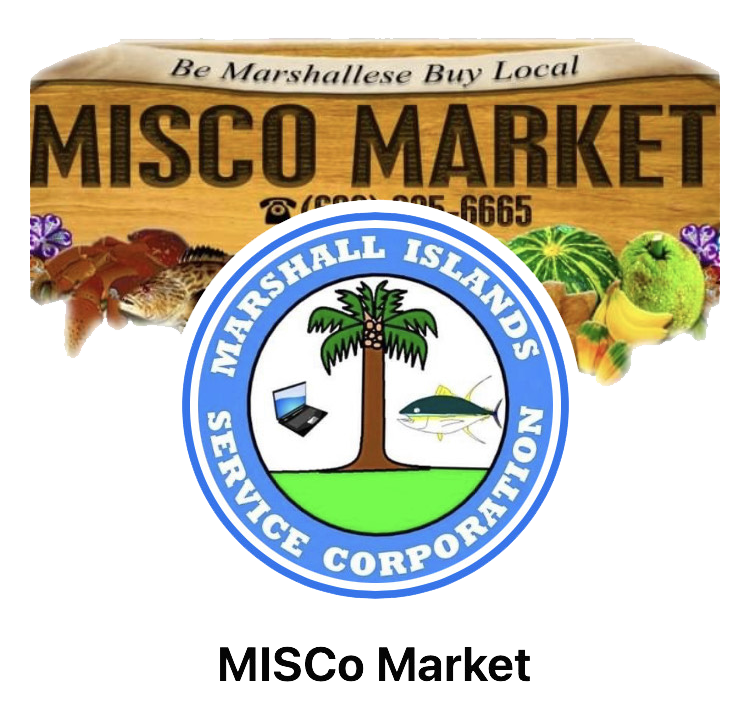 MISCO is a Marshallese business made to meet customer demands and to support Marshallese farmers, fishmen, and handicraft makers.
Products
Marshallese Goods
ONLINE SHOPPING
The Marshall Islands Service Corporation (MISCO) begins its online shopping three years ago prior to the closing of the RMI borders. In January 2021, MISCO expanded to Arno Atoll and established the newly MISCO Market & BOMI Branch there. Like many other businesses in the Marshall Islands, MISCO faced challenges and hardship. Two of MISCO's highlights during this covid pandemic is the online shopping (LIVE) and the mobile banking service to the neighboring islands, the company was able to hold-on to its 100+ employees to this day.
The online shopping has been a success so far and continue providing services to numerous patrons (Marshallese, Micronesians, and others multiethnic living overseas in mainland USA). The weekly LIVE is a one hour long and all about selling and promoting handicrafts, fish and other products and produces. There are various good stuffs to choose from e.g., Marmar (necklaces/charms/jewels); Wut (flowers for ladies); Meto (oceanic stick charts/maps), household decorations; Iep (colorful & white bags) in different and beautiful patterns, styles, and sizes; traditional carved Korkor (canoes) of all sizes and so many other valuable handiworks carved with skillful hands with love and care. Sweet frozen pandanus juice and coconut drinks in bottles, skillet loins/fish and many other products and produces. The purchased USPS shipments are put on the weekly (twice a week) United and Asia Pacific Airlines flights.
Another service available within the Marshall Islands is the Bank of Marshall Islands Mobile banking and Marshall Islands Service Corporation's trade to the neighboring island. This service is being done on the government ships' monthly field trips. Our team voyaged to provide banking service and to buy/trade handicrafts and local produce with the communities. Due to customers' demand, MISCO recently moved around staff to locations at the new cutting room and hired two expert handicraft weavers for the handicraft shop.
To date and through the pandemic, MISCO operation is steady and the company is hoping to maintain stability in advancing the RMI opens her borders.
NEXT IS ARNO TOURISM:
CEO Patrick Chen and Management have plans in place toward tourism development.