The Micronesian chapter of PATA was established in 1986 as a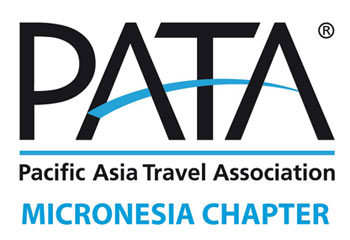 result of increasing tourism interests in the region.

Today, PATA Micronesia has over 100 members from both the public and private sectors. The organization provides a unique networking and partnership opportunity among travel industry representatives in our region.
The PATA Micronesia Chapter is a 3-time, internationally recognized, award-winning organization. In 2004, the chapter was recognized and presented the "Award of Excellence" by PATA for their commitment to conducting tri-annual meetings, monthly teleconferences, and a full program of activities despite geographic limitations. In 2010, the chapter was honored a second time for its use of social media and creative marketing to promote the region's brand. In 2017, the chapter was honored a third time and recognized for their unique approach to marketing the diverse and expansive region, which encompasses 2,100 islands spread over 2.9 million square miles of Pacific Ocean, the "blue continent."
Furthermore, PATA recognizes individuals for their dedication in upholding PATA's mission. In 2009, PATA International honored Guam Visitors Bureau Marketing Manager Ms. Pilar Laguaña, as a recipient of the prestigious PATA Award of Merit. The honor is given annually to individuals who have provided outstanding leadership and service to PATA and its regions tourism industries.

PATA Micronesia Chapter Headquarters
P.O. Box 23217, Barrigada, GU 96921-3217
Tel: 1 (671) 646-5278/79, Fax: 1 (671) 646-8861

MISSION STATEMENT
To assist in the development of our regional tourism industry with strategies that are environmentally sensitive, respect Micronesian cultures, adhere to high operational standards and provide opportunity for education, training and gainful employment among the resident populations of our Micronesian membership. These goals will be accomplished through the cohesive cooperation and active participation of all its members.


STRUCTURE
PATA Micronesia Chapter is governed by an Executive Committee consisting of six board members and the chapter's officers comprising of a Chairperson, Vice-Chairperson, Secretary, Treasurer and Alternate who are elected from among the Executive Committee. In addition, the Immediate Past Chair sits on the Executive Committee in an advisory capacity.
The Chapter also maintains five committees: Culture, Heritage & Environment; Education, Marketing, Membership and Public Relations.


MEMBERSHIP
PATA Micronesia Chapter membership and PATA membership are not the same. The two are separate and distinct privileges that are applied separately.
PATA Micronesia Chapter membership is open to any organization, business or individual with an interest to develop, market or sale travel to, from and within Micronesia.
2021/2022 PATA MICRONESIA CHAPTER BOARD OF DIRECTORS
Paula Monk, Chair
Senior Manager Sales
Guam & Micronesia
United Airlines GUMSA
Tel: (671) 645-8772
Email: [email protected] 

Priscilla M. Iakopo, Vice-Chair
Managing Director
Marianas Visitors Authority
PO Box 500861
Saipan, MP 96950
Tel:  (670) 664-3200/3201
Email:  [email protected]

Edward C. Arriola, Jr., Secretary
President
Blue 46 Associates
P.O. Box 500890
Saipan, MP 96950
Tel:  (670) 789-5420
Email:  [email protected]

Francis Carlos Domnick, Treasurer
Chief Executive Officer
Office of Commerce, Investment and Tourism
P.O. Box 898, Majuro, Marshall Islands MH, 96960
Tel:  (692) 625-4624
Email:  [email protected] 

Stephanie Nakamura, Immediate Past Chair
Paradise Comfort Rentals
Manager
P.O. Box 477
Koror, Palau 96940
(680) 488-3131
[email protected]
PATA MICRONESIA CHAPTER COMMITTEE CHAIRS

CULTURE, HERITAGE AND ENVIRONMENT

EDUCATION
MARKETING
Mark Manglona, Chair
Email:  [email protected]
Ed Arriola, Jr. Vice Chair
Email:  [email protected]
MEMBERSHIP
PUBLIC RELATIONS